How to measure my dog?
Use a Tailor's Tape to measure all the corresponding girth areas shown below.
Use any long string you can find to mark the corresponding girth and use a measuring device or ruler to measure the mark on the string to get the correct size.
Measuring points are shown below with the size guide (A,B,C,D):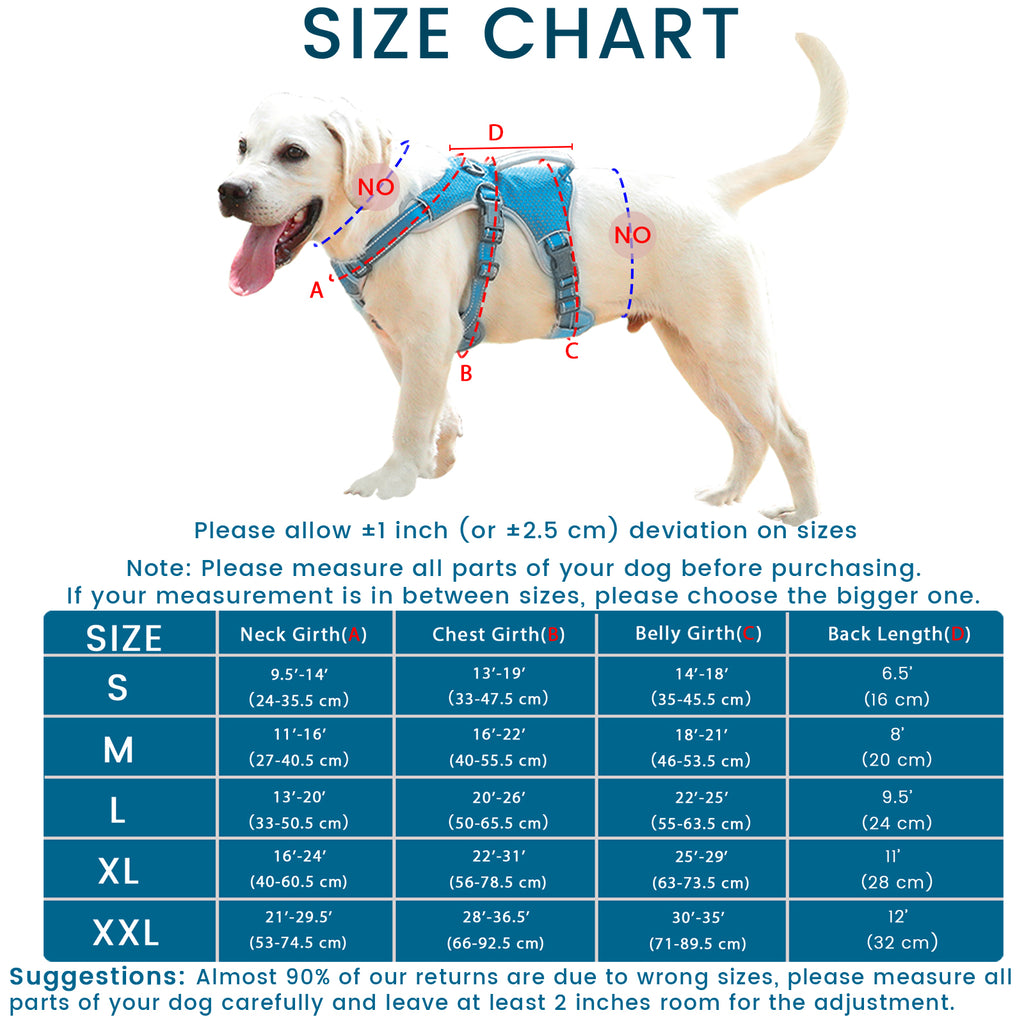 Belpro ships everywhere in the United States, including Alaska, Hawaii, and Puerto Rico. However, we do not ship internationally or to PO boxes.
We offer free standard shipping on all domestic orders!
We offer the following shipping option to get you what you need when you need it. Expected delivery times are listed below:

Free Standard Shipping: 3-5 business days

Please allow 24 hours for us to process your shipment.
If you order is shipped to an incorrect address, please email us at support@belpropet.com
Yes, you can change or cancel your order before we ship it. Contact us immediately at support@belpropet.com, and hopefully, we can catch it in time.
Once your order is shipped, you will receive an email notification. In general, it might take 1-2 business days for our carrier to update the tracking info. If you still have questions, please contact support@belpropet.com
We only accept unused or unworn items for returns within 30 days of purchase. Just follow this link.

However, if your order is still under the 1 year warranty period, feel free to contact us at support@belpropet.com to see how we can help.
Any unused or unworn items can be exchanged within 30 days of purchase. Just follow this link for more info.
You can find all of our product information on our product detail page. However, if you still have any questions, feel free to email us at support@belpropet.com
Our products are made to be easily cleaned, are machine washable (mesh laundry bag recommended) on a gentle cycle, and can be air-dried or dried in a tumble dryer.
We currently manufacture our products in China, taking great care to choose partners who share our values. That means prioritizing quality, worker safety, fair wages and benefits, and minimizing environmental impact.
We've worked hard to create pet products that are durable and lasting. We offer a 1-year warranty on all our products because we believe in the quality of our products.

Wear and tear of pet products may happen. If your items are damaged (regular wear and tear) within a year of purchase, we'll replace them free of charge or provide a refund on a case-by-case basis. Just contact us at support@belpropet.com to see how we can help.
If you happen to have a fur-baby that gets excited and chews our product, you are still free to contact us at support@belpropet.com to see what we can do for you.
Yes, our warranty does. Just email us at support@belpropet.com along with the sales channel name and order number, and we will take good care of you.